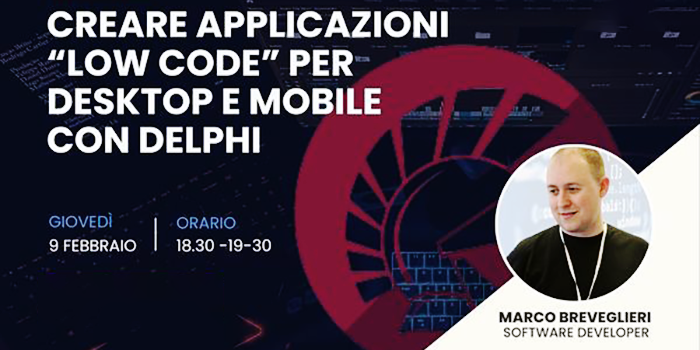 On 9 February 2023 at 18.30 Reteinformaticalavoro - the number 1 Italian portal dedicated to work in the IT sector and specialized in supporting IT professionals in finding opportunities suited to their needs - organizes a webinar (in Italian language) called "Creating low code applications for desktop and mobile with Delphi" featuring myself, and I want sincerely thanks them for this opportunity. 🙂
What will we talk about
The webinar will be totally free and will aim to show the potential that Delphi offers developers today, as a development environment and programming language, comparing it with some of the alternatives available on the market and talking about its advantages (and disadvantages, too).
I really wanted to "push" to organize this webinar because I believe it could be useful to those who are looking for a simple, immediate yet powerful tool to be productive fast in the market of software development, targeting both the desktop and the mobile world, with the least possible effort in achieving a tangible result (or, to put it another way, creating artifacts you can sell in some way). Software development market is very broad, full of opportunities and always looking for figures to be employed within existing teams, and it can become really profitable if you have a project to carry out or a business need to satisfy, or if you simply want to look for investors willing to finance your brilliant idea.
Whatever is the goal, I am truly convinced Delphi can be a valid tool to start with, thanks to the availability of a Community Edition that allows you to start using the development tool for free, with a license policy that facilitates the growth of your company.
How to participate
The webinar will last about an hour. I will try to do my best presenting all the things that are worth to know IMHO, in the clearest and most understandable way, also answering any questions coming from the chat.
If you haven't already done so, I invite you to register for the event .
See you there! 😉